12-Night Greece Intensive Voyage
on Azamara Journey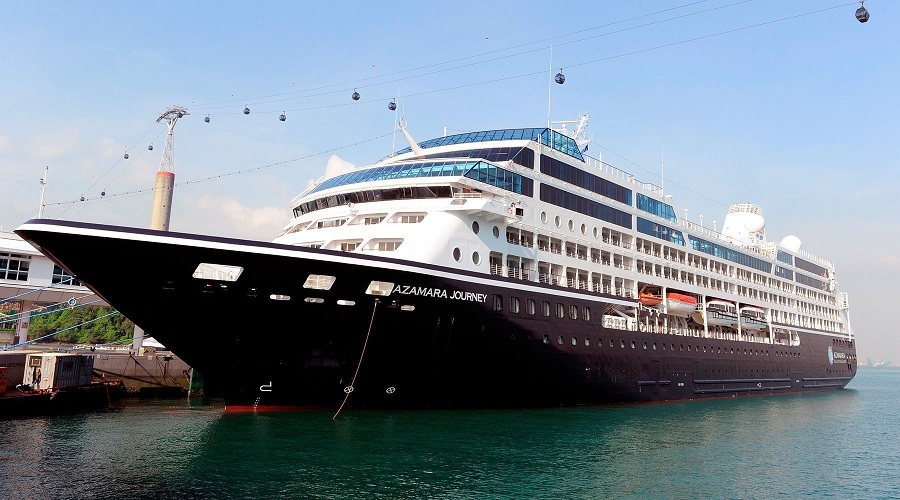 Start your voyage in one of the earth's most historic cities, Athens, where a treasure trove of ancient landmarks await. Next, savor the slower pace of Syros, then set sail for a late stay in what's considered the prettiest city in the country, Volos. History buffs will revel in Thessaloniki, the cultural capital of Greece (and home to 15 UNESCO World Heritage Sites).
Set your sights on Kavala, a whitewashed city crowned by a 15th century Byzantine castle and surrounded by turquoise waters and white sand. Then, flavor awaits you in Lesvos, where olive oil and Ouzo is as abundant as the quaint cafes that overlook the village square. Next, we'll head to Ephesus, Turkey, for a late night stay. The ancient attractions in Ephesus are truly exceptional, including the Library of Celsus, the Odeon, and the marble-made Arcadian Street.
During your late night in Santorini, set aside time to indulge in the panoramic views and a glass of Vinsanto-a pairing we promise will pleasure your palate. Travel to medieval times with a quick stop in Monemvasia before moving on to another late stay in Katakolon-discover the home of Olympia and its stadium, temples, and monuments dating back to 776 BC.
As your trip winds down, enjoy a late night on the mythical island of Corfu-Shakespeare's set for his last play, The Tempest. Reflect on the fairytale-like landscape and flora as you spend a day at sea, then complete your voyage in Venice, Italy.

Welcome.
Here at Azamara, we continue our efforts to be the world's top up-market cruise line.
As such, we are committed to providing you with unparalleled service; the finest dining at sea; a glorious spa and wellness retreat, and innovations such as Destination Immersion® experiences.
With our hallmark of stay longer, experience moreSM, we'll not only take you to awe-inspiring destinations, but also give you more
/p>
...
Inside Guarantee - Cat. Z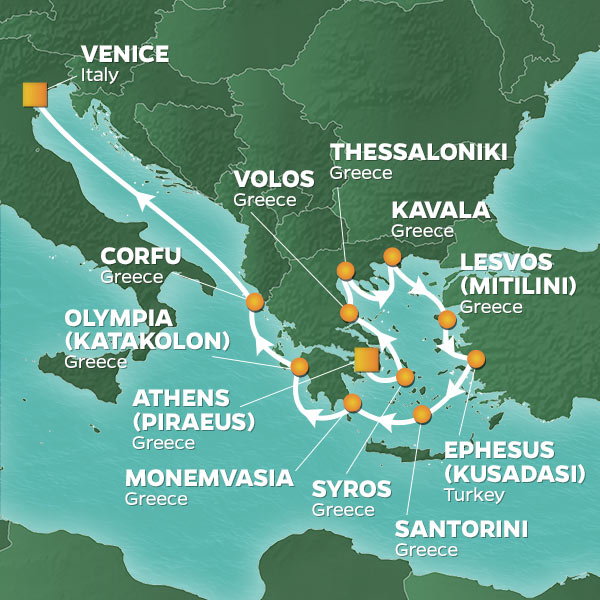 | Day | Port | Arrive | Depart |
| --- | --- | --- | --- |
| 1 | Athens (Piraeus), Greece | | 5:00 PM |
| 2 | Syros, Greece | 8:00 AM | 6:00 PM |
| 3 | Volos, Greece | 7:30 AM | 8:00 PM |
| 4 | Thessaloniki, Greece | 8:00 AM | 6:00 PM |
| 5 | Kavala, Greece | 8:00 AM | 6:00 PM |
| 6 | Lesvos (Mitilini), Greece | 8:00 AM | 6:00 PM |
| 7 | Ephesus (Kusadasi), Turkey | 8:00 AM | 10:00 PM |
| 8 | Santorini, Greece | 8:00 AM | 8:00 PM |
| 9 | Monemvasia, Greece | 8:00 AM | 6:00 PM |
| 10 | Olympia (Katakolon), Greece | 8:00 AM | 8:00 PM |
| 11 | Corfu, Greece | 8:00 AM | 8:00 PM |
| 12 | At Sea | | |
| 13 | Bologna (Ravenna), Italy | 6:00 AM | |